Do you struggle to find your emptying calendar? Here is a guide on how to find your emptying day, how to subscribe to free SMS notifications and how to view your emptying calendar.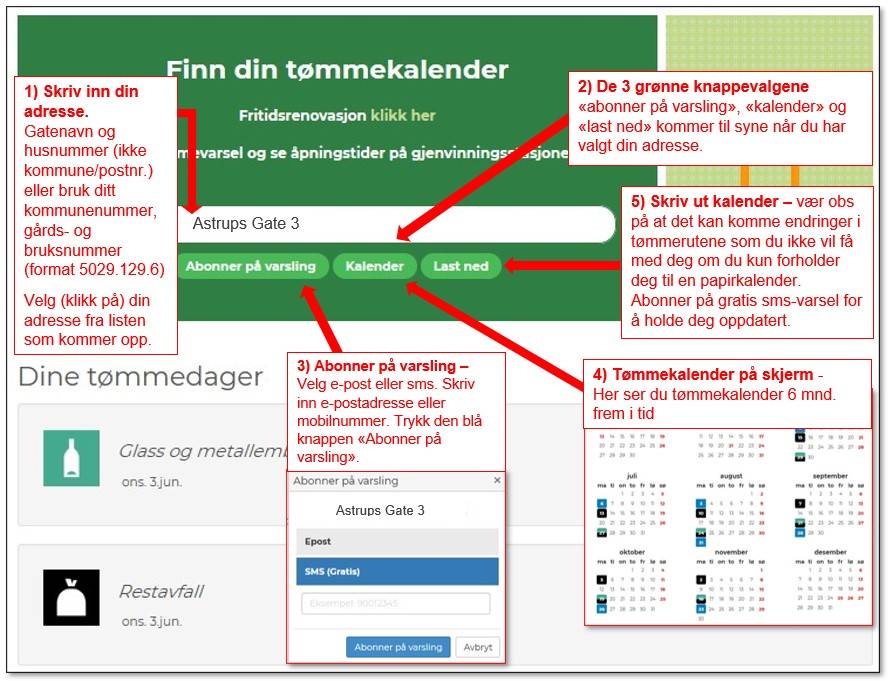 Find your emptying calendar - refers to the number in the picture
Enter your address. Here you only enter your address, municipality and postal code should not be entered in the field.
If you do not have an address, enter your municipality number, farm and utility number. Use the following format: 5029.129.6
If you enter an address for holiday home / cottage / recycling station / commercial property you will not find emptying days, as these do not have a regular pickup on ReMidt's routes.
Opening hours at recycling stations - the 3 closest stations will come up during your "emptying days" when you have chosen your address. Here is also a link to opening hours at all recycling stations.


The 3 green button selections. You must have entered and selected your address from the list in order for these to appear. If you select one of the buttons, they will apply to the address you selected.


Subscribe to notification. Enter your email or mobile number to be notified the evening before the day of emptying. Remember to click the blue "Subscribe to notifications" button to confirm your request. A message will then appear that it has been received.


Empty calendar on screen. After selecting your address you will see the different fractions listed under the green box, during your emptying days. Here you can see emptying dates over the next month.
If you press the green button with "calendar" you will see the calendar for 6 months ahead of time on the screen.


Print the Empty Calendar. If you want to print an empty calendar for hanging, you should choose this one. Here you will get a calendar that only applies to your address. We recommend that you sign up for free SMS notification to bring you any changes to the timber panes.
Go to the front to look up your emptying calendar.

Web app
ReMidt ​​has used a web app instead of a traditional app. Find out how it works and how to put it into your phone.
ReMidt ​​web app

Delete old empty apps from your phone
The HAMOS app, the Envina app and the NIR app are no longer in use and must be deleted. They are not updated and therefore do not display the correct information. Also, please inform others in your household using the app.
No emptying calendar will be sent out on ReMidt ​​paper.