The Environment Directorate has introduced a scheme whereby grants are made for the submission of discarded recreational boats to legal reception. Whoever supplies the leisure boat will receive NOK 1000, - per boat. This applies to boats with hull lengths below 15 feet (4,57 meters), with no inboard engine and regardless of whether it is wood, fiberglass or aluminum.
The grant scheme shall help to ensure the proper handling of discarded recreational craft and stimulate increased collection for material recycling and other legal treatment thereof, and thus prevent discarded recreational craft from going astray.
Here's how:
Before shipping the boat to the reception, print the form: Confirmation of delivered leisure boat to legal reception.
Please contact the reception in advance to get the best help when delivering the boat. Fill out the form and take it with you to deliver the boat so that the reception can confirm that the boat has been delivered.
Recycling stations receiving recreational boats in ReMidt:
Aure, Kjelklia
Averøy, Kårvåg
Heim, Liabø
Hitra
Kristiansund, Hagelin
Melhus, Hofstad
Oppdal
Orkland, Orkanger
Smøla
Sunndal
Surnadal
The renovators will also help you fill in the rest of the form, which you will need to attach when applying for the payment of wreckage.
Once the boat is delivered and the form is completed, do the following:
Create a user at the Environment Directorate's electronic application center and apply for grants.
Take a photo or scan the form with the confirmation (stamp / receipt) that you have delivered the boat to reception. Make sure it's readable.
Upload the form electronically as an attachment to the application.
Press "send"
It can take 1-2 months for the money to reach your account. Forms on paper take longer to process.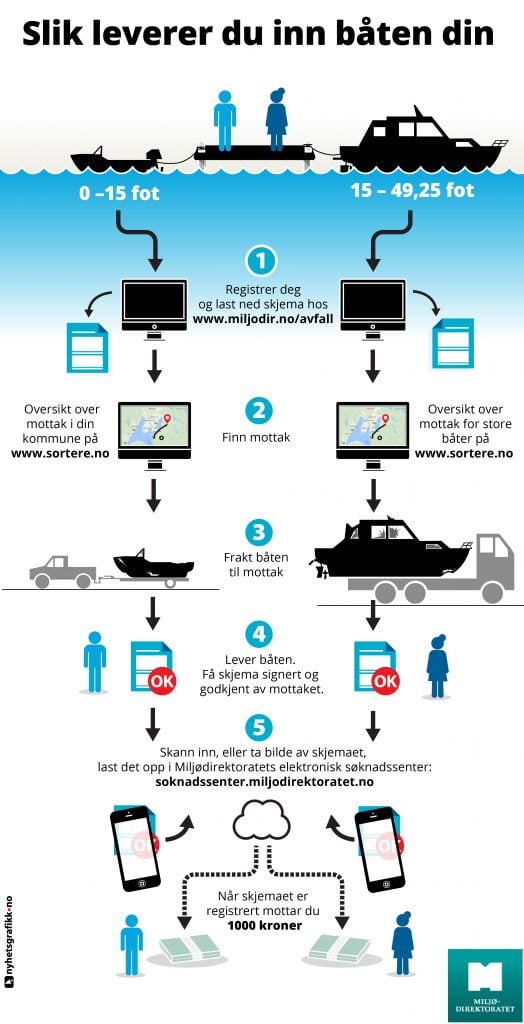 Some definitions and explanations:
Boats: Everything from kayaking, canoeing and boats up to 15 meters.
Leisure boats: If the boat is registered for commercial purposes, it is not covered by the scheme, for example fishing vessels.
Foot and meter: 15 feet = 4,57 feet, 15 feet = 49,21 feet.
Engine: The municipalities' duty of reception does not apply to boats with an inboard motor. If the boat has an inboard engine, it must be delivered to an approved facility (private handlers).
aluminum boat: The regulations do not apply to aluminum boats, as there is a well-functioning metal recycling market.
More information can be found at The Directorate of Environment's websites about wreckage on boat.